House of Cards returns to Netflix today, and we think it deserves a proper welcome back.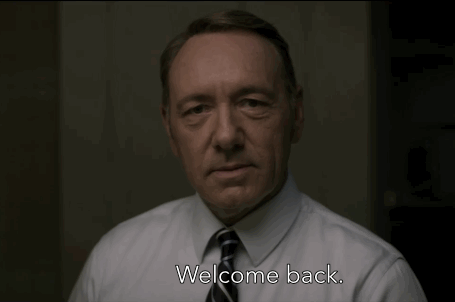 (Image: Gifrific)
And you don't even have to be the show's biggest fan to know that its main character, Frank Underwood, loves two things more than just about anything. One of them is power.

(Image: Giphy)

The other is barbecue ribs.


(Image: The Daily Meal)
But while Frank often looks into the camera to reveal what he's hungering for, you don't have to break the fourth wall to get your hands on this recipe for Barbecue Baby Back Ribs. Even better, you can stick these ribs in the oven when you start watching the show, and by the time you're three or four episodes in, they'll be falling off the bone and ready to eat.

(Image: WiffleGif)
Pair it with a fruity, robust red wine and share it with your partner in crime.

(Image: The Daily Meal)
Recipe by: Chef Elana
Serves: 2
Total time: 3 hours
Ingredients:
3-4 pounds baby back ribs
¼ cup brown sugar
1 cup Stubb's Original (or another tomato-based) barbecue sauce
salt
pepper
1. Prep Ribs
Heat the oven to 275°F. Rub the ribs all over with the brown sugar, salt, and pepper.
2. Cook Ribs
Put on a rimmed baking sheet and bake until the meat is tender, about 2.5 hours.
3. Add Barbecue Sauce
Raise oven temperature to 450°F. Brush the ribs with barbecue sauce and return them to the oven.
4. Cook Until Crisp
Cook until the ribs crisp around the edges, and the sauce begins to caramelize, about 15 minutes. Serve hot or warm, with an extra brush of sauce at the end if you like. (Pro tip: For an extra-crisp exterior, run the ribs under the broiler for a few minutes at the end instead of roasting them at 450°F.)
Try this recipe yourself, share your #platedpics on Instagram, Facebook, and Twitter, then start eating up both your delicious rack of ribs and the juicy drama of House of Cards. It's the perfect excuse to stay in—and we understand if you'll need some privacy.

(Image: Viral Dojo)